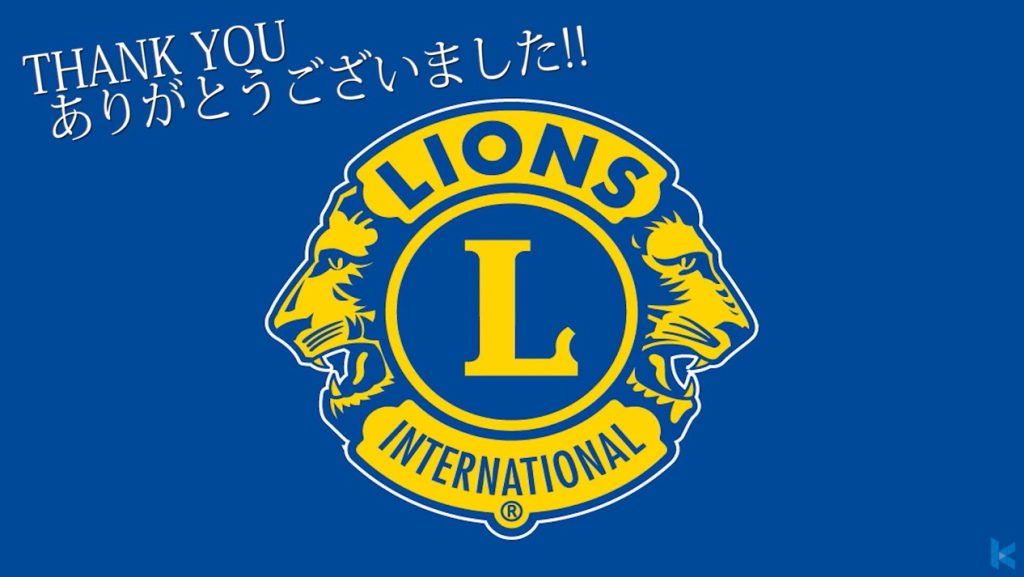 It is with very humble gratitude that KIS would like to thank Muromachi Lions Club for their ongoing support of the school.
Over many years the Muromachi Lions Club has been supporting the school with various activities and always had a presence at the KIS Festival. As recently as this May the Muromachi Lions Club invited KIS to the annual dinner, to be part of the celebrations of all the work the club has undertaken. Two board members attended and reported back on a what a lovely evening was had by all.
In spite of the challenges that the global pandemic has presented, in 2022 the Muromachi Lions Club is donating ¥100,000 to the school. For this magnanimous gesture the entire KIS community thanks the club for their generosity.
The school hopes the next year will again be a time of fruitful cooperation between Muromachi Lions and Kyoto International School.
今年も京都室町ライオンズクラブ様よりKISに対してご支援を頂戴しました事を皆様にご報告させていただきます。京都室町ライオンズクラブ様からは長年に渡ってKISの様々な活動にご支援をいただいており、特にフェスティバルに関しては毎回ご参加・ご協力をいただいています。また京都室町ライオンズクラブ様のチャーターナイトにKISは毎年ご招待をいただき、この5月にもKIS理事2名が出席し素晴らしい会合だったとの感想を聞いています。2022年も世界的なパンデミックの混乱が続く中にも関わらず10万円のご寄付をいただきましたことに、KISコミュニティーを代表してここに室町ライオンズクラブ様の寛大なご支援に感謝申し上げます。