A heartfelt thank you goes out to the dedicated members of the PTA for organizing the incredible 2023 KIS Festival and for bringing our community together. Your hard work and unwavering commitment made this event a resounding success! We would also like to extend a special thank you to all the students, parents, staff, teachers, and members of the local community who participated. Your invaluable contributions and unwavering support made this celebration of diversity and togetherness truly unforgettable. We deeply appreciate each and every one of you!
Here is a quick video with clips from the 2023 KIS Festival:
---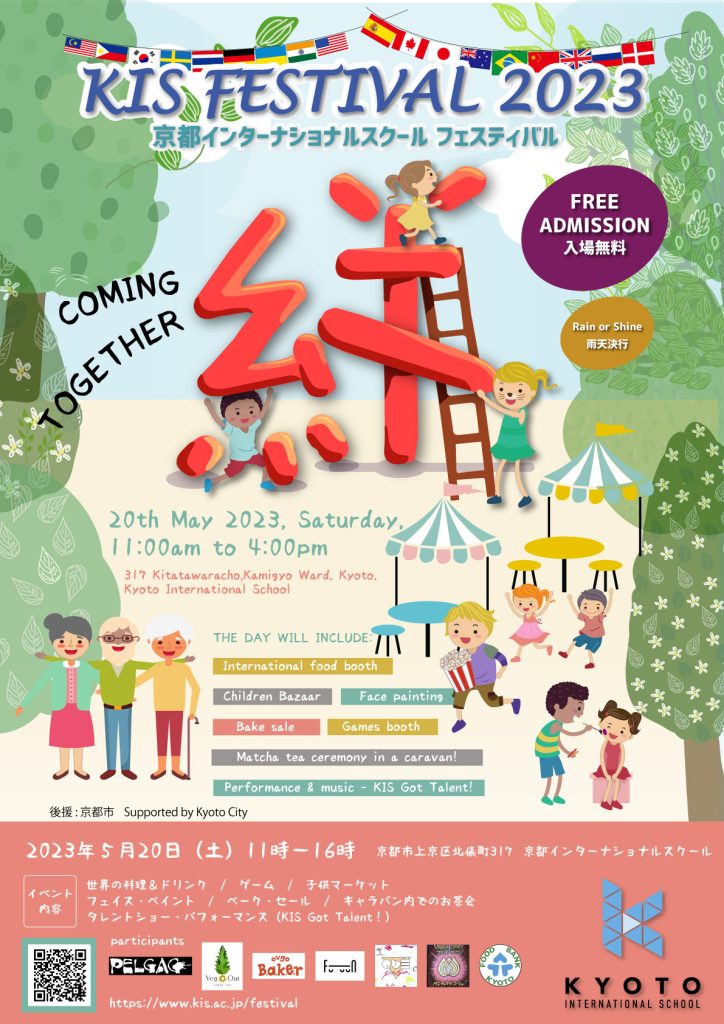 After years of covid keeping communities apart, we warmly invite you to join us as we "come together" for this year's Kyoto International School Festival 2023!
Come along for a day full of fun, food & drink, games, performance, and connection.
Date: 20th May 2023, Saturday, 11:00am to 4:00pm
Venue: Kyoto International School, 317 Kitatawaracho, Kamigyo Ward, Kyoto, 602-8247
The day will include:
International food booths, game booths, children's market, face painting, bake sale, matcha tea ceremony (in a caravan!), performance & music – KIS Got Talent!
この数年パンデミックにより叶わなかったコミュニティとの集いの場、京都インターナショナルスクール・フェスティバルが、 4年ぶりに地域の皆様をお迎えし開催されます!
出店、ゲーム、パフォーマンスなど、地域の皆様と集い、催し物あふれる一日を過ごしに、是非誘い合ってご参加ください。
日時: 5月20日(土)11時ー16時
場所: 京都インターナショナルスクール 〒602−8247 京都市上京区北俵町317
イベント内容:
世界の料理&ドリンク、ゲーム、子供マーケット、フェイス・ペイント、ベーク・セール、茶会(キャラバン内でのお点前 !)、タレントショー・パフォーマンス(KIS Got Talent!)
---
---
KIS Festival Questions
KIS is located in the center of Kyoto City. The school address is 317 Kitatawara-cho, Kamigyo-ku, Kyoto, Japan 602-8247 (〒602-8247 京都府京都市上京区北俵町317).
---
A 25-second clip of the KIS Festival in 2022