---
What parents need to know:
School Contact: kis@kis.ac.jp or 075-451-1022
Parents of Summer Camp students should review the following information. Click the + button for details to each of these questions.
What is being taught? (Program & Theme)
Our four week program will focus on the different activities such as …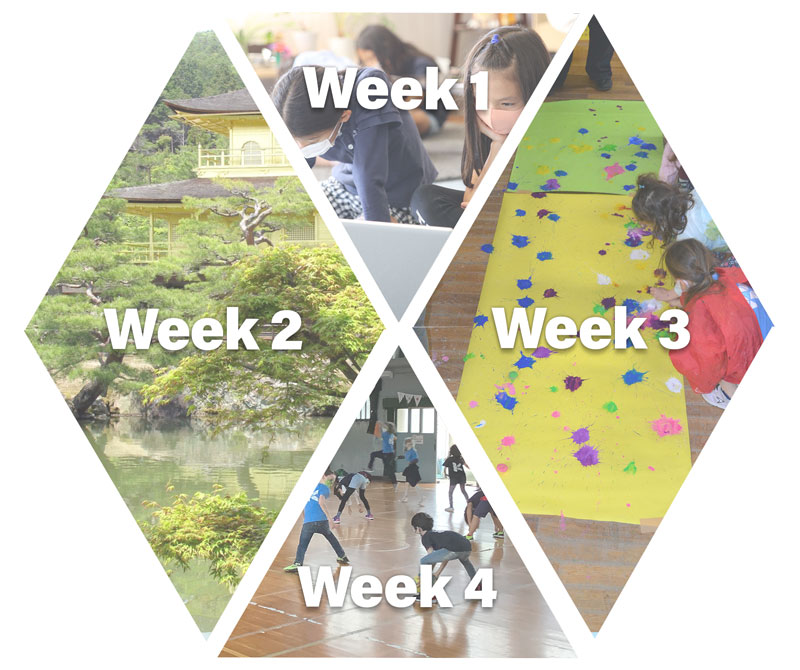 Are there any newletters or photos for parents? (Classroom Updates)
Yes! A welcome email has been sent to the email address provided at registration.
Parents can stay updated with the classroom activities through Seesaw (app.seesaw.me) – Student and classroom engagement and communication application. Please note that there are 2 apps, 'Class' for student access/activities and 'Family' for parent access/feedback.
Learn more with What is Seesaw? or the Intro Video. Download the application for your device from https://web.seesaw.me/platforms
Any issues or questions, please reach out to ict@kis.ac.jp
What should my child bring? (Supply List)
Students should bring these items with them, everyday
A healthy snack
Lunch from home or order a bento (due Thursday the week prior)
Water (or tea) in a durable water bottle
A change of clothing (in case of water play)
Sunscreen
Hat
Indoor shoes
The school will not be held responsible for any trading, breakage, loss or theft of any personal items or toys. We highly encourage you to not bring personal items or toys to school. A lost and found box is located in the basement stairwell of the main building.
What is the daily schedule? (Attendance)
Drop-off between 8:45 and 9:00
Please enter the blue gates between 8:45 and 9:00 for student drop-off.
If you expect to be late, please complete the Late Arrival Form.
Pickup at 15:00pm
If you plan on picking up your child early, please complete the Early Dismissal Form.
Please note that all students must leave the school grounds by 15:15pm, there is no childcare available.
Drop-off Transportation
For the safety of our students cars are not permitted in KIS. Parents are to park outside of the school using one of the public parking facilities available.
All children are required to wear a helmet when on a bicycle.
Snack? Want to order a lunchox? (Lunch, Snacks, Water)
Parents should pack a healthy snack, water/tea bottle, and a packed lunch. If you prefer to order a bento, you can order.
---
What should my child wear? (Dress Code)
Students are required to bring two pairs of shoes – one pair for outdoor use, the other for indoor use. Both shoe types should be suitable for PE lessons and in case of emergency.
Indoor shoes are to be worn inside the school building and the school gym. "Flip flops" and other types of beach sandals, as well as high heels are not acceptable for safety reasons.
A change of clothing (in case of water play)
What if my child has an allergy? (Allergies & Medication)
Please complete the Summer Camp Student Information Form by Wednesday June 14th and include any allergy and medical information.
If an Epi-pen is ever required to be used, the school will follow this up by calling an ambulance.
What happens if my child gets hurt? (Illness & Injury)
Please help us keep the school community healthy by following these basic rules:
If any symptoms of Influenza are present (keeping in mind it is different for every child), please take your child to a doctor.
If your child has confirmed influenza, keep them home for a minimum of 2 days after fever returns to normal.
Students who are contagiously sick, have a fever, heavy coughing, diarrhoea, earache, nausea or vomiting, skin rash or a sore throat, need to stay home.
If your child has a fever or appears unwell, please do not send them to school and inform the school. If the illness is not influenza, students must stay home for a minimum of 24 hours after a fever returns to normal to reduce the risk of spreading viruses.
The school uses +37.4 degrees celsius as an indicator that a child has a fever and needs to be sent home.
First-aid for minor cuts, scratches, bumps and illnesses will be attended to by school personnel. If a staff member determines that the injury needs further treatment, the parents will be notified as soon as possible and may be asked to come and get their child.
Students will not be sent home with anyone unless the parent of the sick or injured child gives prior permission.
Any seriously injured students will be taken to a doctor or hospital at the discretion of the Principal.
What if the weather is bad or an earthquake? (Health & Safety)
Campus may be closed in the case of inclement weather or other situations which may endanger our students and staff.
We use the Warning & Advisory System and the Emergency Warning System issued by the Japanese Meteorological Agency to decide if the campus needs to be closed for the day.
School campus closure decisions are made by 6:30 am and shared with the school community via the school website. Anyone who usually leaves home before 6:30 am is advised to use their own discretion.
In the event that school must close while students are at school, students are kept at school until a parent is able to pick them up or give alternative instructions.
In the case of a major emergency, we ask parents not to phone the school as this will only congest the lines and prevent us from contacting emergency services or others we need to make contact with urgently.
Days will not be made up for such closures.
Emergency Evacuations
Teachers regulary undergo fire and earthquake drills, CPR training, the school has internal procedures for child safety and evacuations.
It is quite possible that during a major disaster that telephones/transportation will NOT function. In this event, all students will be kept at the school, the evacuation point, or housed out with other parents/staff members until a parent or designated adult retrieves them. A member of staff will be posted at the school to give information on students' whereabouts.
The Kyoto Trip+ App (available in both Apple App Store and Google Play) has excellent disaster information tips and advice in a variety of languages.
---